2013 Rentals Now Available
Interested in renting this summer? Visit our Rental Information section for available weeks and pricing.
High Speed WiFi Now Available
Okay, based upon renter feedback we installed a wireless WiFi system. But no fair surfing the Web when the real surf is up!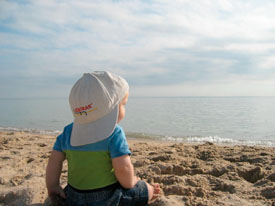 Windswept is a lake front rental property in Michigan. Located on the shore of Lake Michigan, Windswept is a large summer vacation rental home with a private beachfront.
Not "near" or "across from" or "access to." This is the real thing, YOUR private beach!
An enormous private beach is all yours for swimming, beachcombing or night bonfires. There is no cliff - just spill out the front door and you're at the beach. Spend time hiking out onto the south breakwall to watch the Lake Michigan ferry S.S. Badger approach at sunset. Chances are a southwest breeze will stir up the surf, providing the best night's sleep you've had in a long time.
Windswept is family-owned with four bedrooms and one-and-a-half baths. It is a summer cottage in Ludington, Michigan on a peninsula between Lake Michigan and Pere Marquette Lake.
Enjoy the people, activities and relaxed pace of Ludington, Pentwater and Manistee. Take advantage of the golf, fishing, antiquing, swimming, sailing, horseback riding, beachcombing, fairs and all the best Western Michigan has to offer.
Brian Moloney.